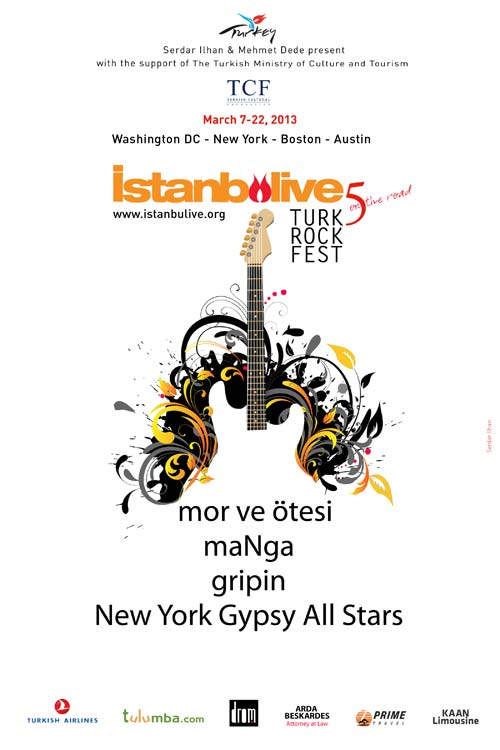 ISTANBULIVE V:
Turk Rock Fest
Esteemed festival hits the road with shows in DC, New York, Boston and a showcase in Austin at SXSW
Presented by Serdar Ilhan and Mehmet Dede
Supported by the Turkish Ministry of Culture & Tourism
After an exceptional four-year run at New York's seminal festivals, first at Central Park SummerStage, followed by Lincoln Center Out of Doors, Istanbulive will hit the road for its fifth edition this March. Nearly 20,000 people have attended the four installments in New York City through rain or shine since 2009 and now fans in Boston, Washington D.C. and Austin will experience the NY-born festival in their home cities. The 4-date tour will wrap up with a pivotal showcase, dubbed the Turk Rock Fest, at one of the largest music festivals in the US, SXSW.
Istanbulive co-producer Serdar Ilhan explains, "For years we have produced US tours with Istanbulive alumni like MFO and Husnu Senlendirici after they made their debut in New York. The idea now is to present this esteemed festival in a showcase format, put it on the road and introduce the new wave of Turkish rock sounds to tastemakers, fans, industry and media at SXSW." This unique package features Turkey's top rock bands including mor ve ötesi, maNga, gripin and the NY Gypsy All-Stars
Friday, March 15 @
Cedar Street Courtyard
SXSW, Austin, TX
featuring,
mor ve ötesi, maNga, gripin, NY Gypsy All-Stars & Guests
Thursday, March 7 @ Tropicalia, DC
Friday, March 8 @ Drom, New York
Saturday, March 9 @ The Middle East
NY Gypsy All-Stars Live plus Music Voyager: Turkey Documentary Screening
Gripin Concert
on Friday, March 22 @
Drom
mor ve ötesi - East Coast 2013
Click
HERE
for tickets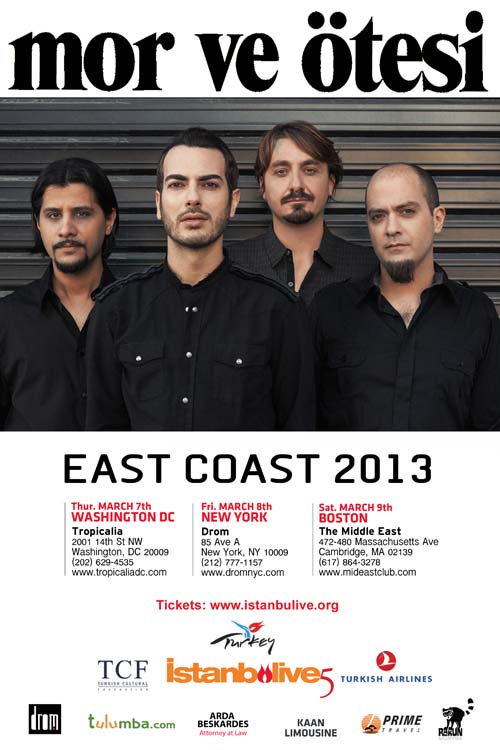 Screening & Season Launch Party