Thanks to all everyone who came out to last Friday's Istanbulive III concert in Central Park. Despite the thunderstorms, torrential rain and winds earlier in the day, the weather cleared by the time of the event and set the tone for a magical outdoor concert. Thousands of fans flocked to SummerStage to watch Manga, NY Gypsy All-Stars and the legendary Zulfu Livaneli and sing along to crowd favorites such as "Leylim Ley," "Yigidim Aslanim" and "Karli Kayin Ormani." The event was covered on many fronts including radio, Turkish media and Reuters ran a short clip of the event. Our heartfelt gratitude goes out to everyone in attendance for their support and love of music.

Istanbulive III Photos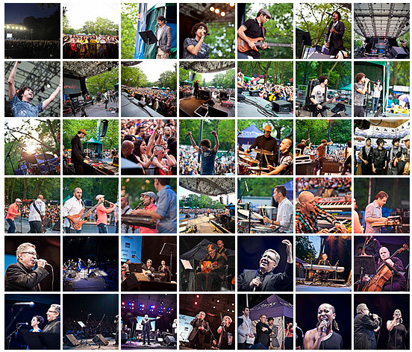 Istanbulive III Press Reviews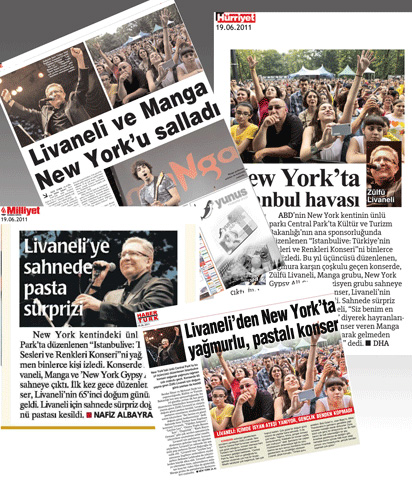 ---
------------------------
---
------------------------
---
------------------------
---
------------------------
---
--------

Merhaba,
We have the honor of returning to SummerStage this June with Istanbulive for an unprecedented third year. Over 12,000 fans have attended the previous two editions, and we plan to up the energy yet again. This year we've got one of the most famous and influential Turkish artists of all time – world renowned composer, writer, film director and musician Zülfü Livaneli. He is best known for playing traditional songs with a modern flair, and his music has touched generations in Turkey. 2011 will mark the 40th anniversary of his career. He will be joined on stage by our own NY Gypsy All-Stars and other guests for an amazing outdoor summer event.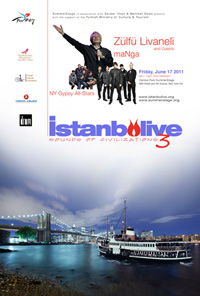 Opening for Livaneli is MTV's hit group
maNga
, an alternative rock band with a legion of loyal fans spread across Europe. With a
Best European Act
award at the
2009 MTV Europe Music Awards
under their belt and a second place ranking at the
2010 Eurovision Song
contest, maNga is an energetic force of musicianship. This young band has all the necessary elements of a universally accessible sound that comprises rock, hip-hop, electronic and Anatolian melodies.


Istanbulive III is free to the public and will take place from 6pm - 10pm on Friday, June 17th, 2011 with


ZÜLFÜ LIVANELI & Special Guests Demet Sagiroglu, Al Di Meola, Lina Orfanos and Selloane Lekhoaba
maNga
NY GYPSY ALL-STARS


Join us this year as we celebrate the Sounds of Civilizations with three extraordinary acts for what promises to be the best Istanbulive yet.


Serdar Ilhan & Mehmet Dede
Istanbulive III Producers

New Manga Show Added on Saturday!



Two New Events Added to Istanbulive Weekend in NY





Thank You to our KickStarter Backers
A big Thank You to the following people who backed our KickStarter campaign so far:

Yesim Numan, Oya Tugal, Hilal Koc, Ekmel Anda, Yamina Mokrani, Emre Cumali, Perya Mufit Tekiner, John McGeehan, Bahadir Inozu, Onder Guven, Ozgen Dogan , Tolga Sarioglu, Mustafa Somar, Beyhan Karahan, Retail Aid Business Solutions, Gokhan Topalhan, Christina Lordeman, Omer Bayrak, Zumrut Atli, Korhan Basaran, Tuncay Ozgulgec, Christina Lipi, Maria Jose Pinto, Arife Asmaci, Cenk Vatansever, Janet Vatansever, Gulben, Ragip Erdem, Bilge Odabasi Adsay Erdem, Zeynep Schleicher, Brice Rosenbloom, Hulusi Cinar, Hediye Nese Cinar,

Julie

Mardin,

Mehmet Kirdar,

Emrah Yucel, Ekin, Gunduz, Eylul Refide Simsek, Tunc, Hayal Koc, Gulcin Afres, Umit Keskin, Doga Kayalar, Alihan Polat, Benan Ozkaynak, Nedret Ozdemir

,

Canan Ozkok, Jayne Berrier

and

Kurt Togrul.