Mission Statement




Istanbulive II

celebrates the rich musical heritage of Turkey with major artists performing together in New York under the SummerStage banner. Producers Serdar Ilhan and Mehmet Dede´s mission is to introduce the music of Turkey, which is often underrepresented in the US, to the American consciousness through events, showcases and educational programs and by doing so also support the Turkish Tourism Office´s ongoing efforts in promoting Turkey as a destination country.


---

About The Producers - Serdar Ilhan


Ilhan moved to the US from his native Istanbul 20 years ago with an undergraduate degree in Graphic Design and graduate degree in Photography. As an award-winning Art Director he worked at an ad agency before he entered the NY live music scene. He has presented Turkish, Mediterranean and World music at prestigious places like Lincoln Center, Town Hall, Carnegie Hall and Florence Gould Hall for the past 15 years. Ilhan also ran successful establishments like St. Marx Café, Maia and Drom hosting many memorable nights of music, food & culture and continues to present music of different cultures at various venues around town. In addition to being the manager of the NY Gypsy All-Stars, Ilhan is one of the producers of the annual NY Gypsy Festival.
http://www.serdarilhan.com


---

About The Producers - Mehmet Dede


Mehmet Dede runs Brooklyn-based boutique music events & marketing company Electric Lila. Born in Turkey and raised in Germany, Dede has worked as producer, artist manager, marketer and record label manager at companies including Giant Step and Universal Music Group. As event producer he's booked international talent to various prestigious NYC venues for private and ticketed events. In 2005, he co-founded the NY Gypsy Festival with Ilhan and continues to produce the annual festival. Dede´s speaking engagements on New Media and Social Networking include various panels at NYU, APAP and California Presenters conference. He has also appeared on WKCR, WFMU and WNYC. Dede holds an M.A. from New York University with honors in Music Business & Marketing and B.Sc. in Engineering.
http://www.electriclila.com


---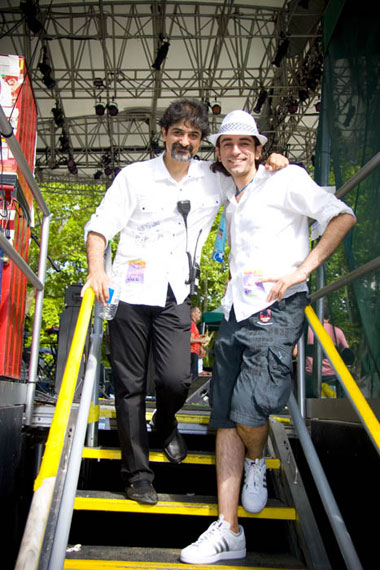 Serdar Ilhan Presents
2010
Sertab Erener US Tour (Chicago, Detroit, Washington DC, New York)
2010
Husnu Senlendirici US Tour (NY, Boston, Chicago, San Francisco, Seattle)
2009
MFO US Tour (Seattle, San Francisco, Chicago, NY)
2009
Selim Sesler & NY Gypsy All-Stars @ Zankel Hall at Carnegie Hall
2008
Baba Zula USA Tour (Chicago, Madison, Minneapolis, Toronto ve New York)
2008
Sir James Galway, Al Di Meola, Cheb-i Sabbah, Brooklyn Funk Essentials, Boban Markovic Orkestar and others at various dates @ Drom
2004
Jazz Made In Turkey Festival @ Alice Trully Hall at Lincoln Center
Aydin Esen, Okay Temiz, Laco Tayfa, Ilhan Ersahin, Kudsi Erguner, Erkan Ogur, Joe Lovano, Greg Osby, Eddie Henderson, Lefteris Bournias
2000
Zulfu Livaneli & Maria Farandouri "Turkish & Greek Songs Of Peace" @ Town Hall
1999
Mazhar Fuat Ozkan "Kosova Benefit Concert" @ Club Live NYC
1999
Turkish Earthquake Jazz Concert @ Florence Gould Hall
Al di Meola, Arto Tuncboyaciyan, Badal Roy, Mordy Ferber,A.Engin, llhan Ersahin, Ara Dinkciyan
1994
Atilla Engin and New World Orchestra @ Weill Recital Hall at Carnegie Hall

---

New York Gypsy Festival


The NY Gypsy Festival is an annual gathering dedicated to exploring the authentic as well as changing face of Gypsy music in the world today. Since launching the festival in 2005, co-producers Ilhan and Dede have reached thousands of fans at NYC venues such as Symphony Space, Joe´s Pub, NYU´s Skirball Center, Drom, (Le) Poisson Rouge and Central Park´s De La Corte Theater. The festival was featured in the NY Times, Newsweek, Spin Magazine, TimeOut NY, Village Voice, among many other places. Some of the acts presented over the years include:
| | | |
| --- | --- | --- |
| | | |
| 2010 | | Mahala Rai Banda, Selim Sesler, Tecsoi, Yuri Yunakov and others (Sept/Oct 2010) |
| 2009 | | Little Cow, Rhythms of Rajasthan, Sway Machinery, Barbaros Erkose, Hazmat Modine and others |
| 2008 | | Baba Zula, Dotschy Reinhardt, Watcha Clan and others |
| 2007 | | Balkan Beat Box, 17 Hippies, Beirut and others |
| 2006 | | KAL, Frank London, Husnu Senlendirici, Kolpakov Trio, Kultur Shock and others |
| 2005 | | Gogol Bordello, Ivo Papasov, Slavic Soul Party, Zlatne Uste and others |
http://nygypsyfest.com

---

Special Thanks


Mr. Guven Tasbasi, Mr. Mehmet Samsar, Mr. Levent Demirel, Ms. Nihan Bekar, Mrs. Tolunay Yilmaz, Mr. Basar Sen, Mr. Harun Arslan, Mr. James Burke, Ms. Erika Elliot, Mr. John Seroff, Ms. Marigny Lee, Mr. Joe Mardin, Mrs. Nur Ercan, Mrs. Guler Koknar, Mr. Alp Baysal, Ms. Ozgul Yavuz, Mr. Omer Bayrak, Mr. Celal Secilmis, Mr. Ihsan Baytan, Mr. Cem Ongen, Mr. Kaya Boztepe, Mr. Arda Beskardes, Mrs. Neslihan Cafer, Mr. Ekmel Anda, Mr. Turgay Kadioglu, Mr. Ali Cinar, Mr. Cafer Sahin, Mr. Burak Karacam, Mr. Hakan Ozcilingir, Mrs. Arzu Birkan-Beskardes, Ms. Buket Coskuner, Mr. Alp Ozaman, Ms. Rachel Black, Mr. Danny Owen, Mr. Selahattin Karakus, Mr. Erden Arkan, Mr. Aytac Nurol, Mr. Zafer Sevimcok, Ms. Sebnem Tasci, Mr. Ozer Dumankaya, Mr. Suleyman Secer, Mr. Koray Yilmaz, Mr. Ibrahim Mazman, Mr. George Kulaguz, Mr. Cem Kozinoglu, Mr. Igal Zakuto, Mr. Kerem Baran, Ms. Idil Mumkaya, Ms. Arzu Dede, Mr. Deniz Olgac Ilhan, Ms. Zeynep Guven, Mr Tom Pryor, Mr. Riad Saha, Mr. Adnan Karabulut, Mr. Haldun Dinkcetin, Ms. Mutlu Ozturk and all the artists, their representatives, volunteers and the fans.


---